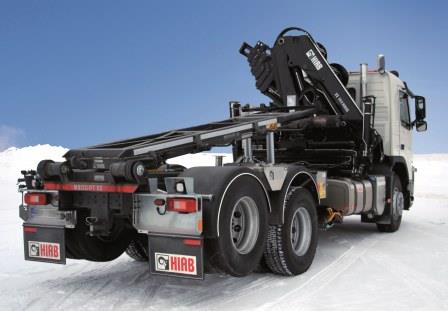 Hiab, Cargotec
Hiab, part of the Cargotec Corporation, is the global market-leading brand in on-road load-handling solutions and one of Technion's key customers. Hiab helps its customers enhance their efficiency and productivity through customer-driven product and solution development. The company's versatile services ensure the safe functioning of equipment throughout its long life cycle.

Flexibility through modular solutions
Technion and Hiab have worked together to develop a modular control system for a road maintenance truck. Hiab's previous road maintenance truck solution included separate controls for each implement, which made the cab feel crowded and complicated the driver's work. Technion solved the problem by developing a new system that centralises the control of implements and facilitates and rationalises the work of the driver.  In the new system, road maintenance implements can be flexibly enabled and disabled through a graphical user interface. This means that the same joystick can be used to control a washer in summer and a front-mounted plough in winter. The system settings allow the user to easily determine which keys or joystick buttons are used to control a specific implement or part of an implement. The modularity of the system makes it possible to retrofit features to the road maintenance truck.
The solution and its benefits  
The system was implemented using TEC132 modules which provide a cost-efficient solution for basic systems, but also enable the creation of more complex device configurations when necessary. The TEC132 module has been type approved in accordance with UNECE Regulation 10.4, so it meets the customer's application requirements. The graphical touchscreen presents information clearly, guiding the driver, and makes the system extremely easy to use. The system modules communicate using the CANopen protocol. The system also includes a J1939 vehicle bus for communicating with the chassis system.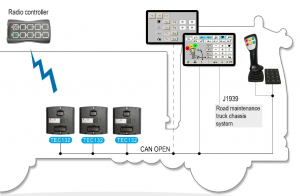 Control system architecture of the road maintenance truck
Road maintenance truck chassis system
System functions: Control of Multilift demountables, ploughs and other hydraulic auxiliary devices and functions. Control of working and warning lights. Control of cab indicator and warning lights and sound signals. A significant number of programmable auxiliary functions.