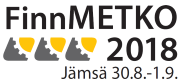 It was great to meet and greet both old and new visitors. One of the solutions we showcased was our xCrane PRO control system with tip control for mobile cranes. Ease of use, preciseness and smooth crane movement were most often mentioned. "Better than any other solution in the market", was a common opinion from the test drivers.
We believe in cooperation and that the best innovations are created together with our partners and customers. We have been cooperating with crane manufacturer Kronos and provided them solutions for intelligent crane control. Kronos´ strong expertise in crane design combined with our expertise in crane control systems results in a winning concept.
At FinnMETKO Kronos launched the Smart Boom Control (SBC), which is based on Technion's xCrane PRO control system. With xCrane PRO, the operator controls the tip of the boom instead of controlling each cylinder separately. See video of SBC below.